Day 9 Occupy Wall Street September 25 2011 Shankbone 33
February 19th, 2013 by
Some cool News blogs for kids images:
Day 9 Occupy Wall Street September 25 2011 Shankbone 33



Image by david_shankbone
Sunday and Wall Street remains barricaded to the public and tourists alike, which means it has been effectively "taken over" for 9 days by Occupy Wall Street. Photos from Zuccotti Park, September 25, 2011.
David Shankbone
Good Magazine: The (Un)Official Occupy Wall Street Photographer's 15 Favorite Frames
The Occupy Wall Street Creative Commons Project
Day 1 September 17 Photos – Preoccupation and Occupation Begins
Day 2 September 18 Photos – People settle in; cardboard sign menage begins
Day 3 September 19 Photos – Community forms; protest signs
Day 7 September 23 Photos – First rain, protest signs, life
Day 8 September 24 Photos – Pepper spray day, Zuni Tikka, people
Day 9 September 25 Photos
Day 12 September 28 Photos
Day 14 September 30 Photos
Day 16 October 2 Photos
Day 17 October 3 Photos
Day 20 October 5 Photos
Day 21 October 6 Photos – Naomi Klein
Day 23 October 8 – Faces of OWS
Day 28 October 13 – Tom Morello of RATM
Day 31 – protesting Chihuahua and The Daily Show
Day 36 – Parents and Kids Day and quite a crowd
Day 40 – protesting hotties, Reverend Billy and tents
Day 43 Photos – Snow storm at OWS of the first NYC winter snowfall
Day 47 – Solidarity with Occupy Oakland
Day 50 November 5
Day 52 November 7 – Jonathan Lethem, Lynn Nottage and Jennifer Egan
Day 53 November 8 – David Crosby and Graham Nash play OWS
Day 57 November 12 – Former NJ Gov. Jim McGreevey
Day 60 November 15 – Police evict protesters from Zuccotti
Occupy Colorado Springs Colorado on November 20
Do you want to see the Occupy Wall Street series laid out thematically? Click here
The secret lair of Hans Zimmer, from where he inspires the world



Image by Stuck in Customs
See the FULL STORY at www.stuckincustoms.com/2010/01/29/the-secret-lair-of-hans…
I Approach my Quarry!
Six days ago I was up at 3 AM, listening to Hans Zimmer while editing photos, and then I had an idea for a project with him, so I made a blog post. Now, less than a week later, I was in his studio in California!
For those of you that don't know who Hans Zimmer is, he's, like, the Liger of composers. He did the soundtrack for The Dark Knight, Pirates of the Caribbean, The Lion King, Gladiator, Sherlock Holmes, and many more! In fact, back when I was in college and had a double major in Computer Science and Geophyisics (I dropped the Geophysics bit after a fight with the professor), I commandeered the SGI machine in the Geology department to make a computer animation, and I set the whole thing to one of Zimmer's songs from Backdraft called "Burn it All". So, in short, I've had Hans Zimmer's music in my head for about 20 years.
The Story of How I Got Into Hans Zimmer's Studio
It's because of you! We have millions of visits here on the blog every month, and you all know how thankful I am for your repeat patronage. It's tough to get a pretty photo up every day, and I thank you for all your feedback! So, when I put out the call in my newsletter, I got a ton of responses. My math-guess was that I was one or two degrees away from Hans, especially since there are many creative-types that are regular visitors.
Also, many of you hyper-active types (like me!) talk to me, ask questions, and follow me on Twitter — thank you for being responsive to real-time requests and news.
About an hour after I sent out the newsletter at midnight, I got a response from a German gentleman (name private) who is friends with Hans! In fact, he told me he was going to see Hans the next day at his studio near Hollywood! He did a few things to help out, and, although I could not meet Hans today, I did get an amazing opportunity to take photos of his studio. I knew I could make his studio look the way it feels — I had a sublime confidence I could make it happen. Anyway, I was like a kid in a candy store. I got a ton of shots… I only had time to process four of them.
Hans Zimmer's Studio
I don't know if words do it justice, but I hope these photos do.
The studio is even bigger than I thought, and I was reminded of the Crimson Lounge in Chicago. In fact, I pulled up the image on my laptop there on the table to compare textures and light. I thought everything worked well together — the decadence and richness of the decorations integrated with the technology. I don't know if there is a word for such a look… It's something out of a Phillip Pullman novel, somewhere between Steampunk and Techno-boudoir. Again, words fail.
The first two photos I have placed on Flickr. You can click on them to go to Flickr and then zoom into the full-res size. Amazing details — especially in the chair photo. I'll post more in coming weeks, months, and years, as usual. So, stay tuned in my this ongoing quest!
from Trey Ratcliff at www.stuckincustoms.com
Kids Ride Free on BART



Image by Richard Masoner / Cyclelicious
San Francisco Bay Area Rapid Transit is offering free rides for children 12 and under on Saturdays in August. Each fare-paying adult may be accompanied by up to two children. Each child must have a Flash Pass to show the station agent. (click here for PDF Flash Pass). Use the swing gate instead of the regular fare gate.
Stop! Go See This HOT OFFER...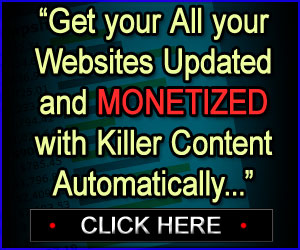 Monetize Your Websites With Killer Content Automatically - Click Here!